Choosing a color to have on a website is one of the most important things to consider during its design process. The background color should be appealing to the eyes of the visitors because aside from its content, the visual appearance is also a great factor that would keep them from coming back into your site. Green, for example, is a nice color to incorporate into your website design. Green symbolizes hope and growth, and is also associated with regeneration, fertility and rebirth for its connections to nature.
In today's post, we are showcasing 30 Refreshing and Eco-friendly Green Websites to inspire you into your next design. Take a look at these examples and redesign your website with a green grassy color if you'll find these websites very eye-catching.
Roni's Child Care Center Punchbowl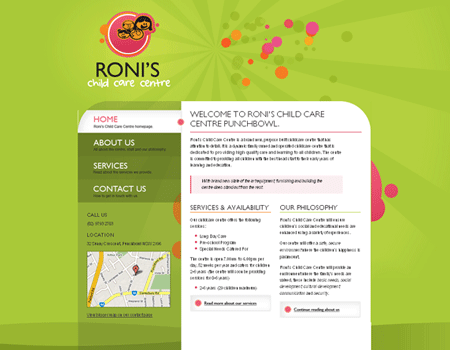 Roni's Child Care Centre is a brand new, purpose built childcare centre offering Long Day Care and Pre-School Services.
Visit Site
Elmwood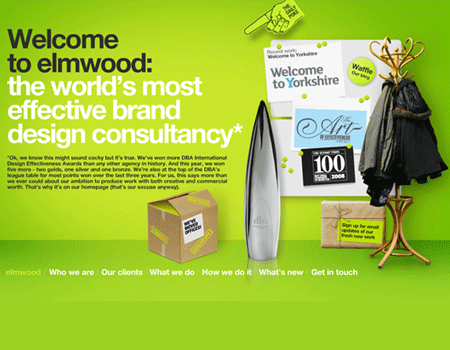 The world's most effective brand design consultancy.
Visit Site
Emotions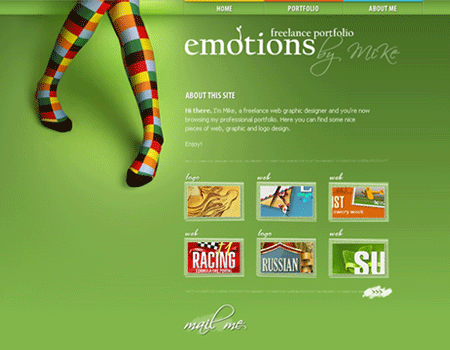 Emotions is a professional portfolio owned by Mike wherein nice pieces of web, graphic and logo designs are showcased.
Visit Site
18seconds.org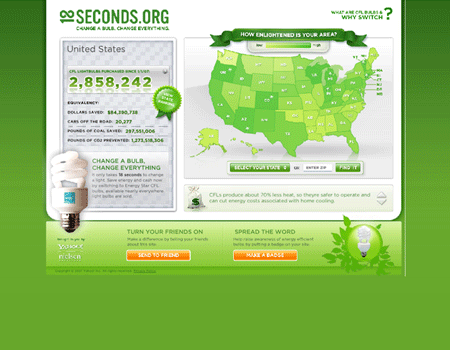 18seconds.org was launched by Yahoo with some assistance from Wal-Mart, the Department of Energy, the Environmental Protection Agency and other parties with the objective of replacing traditional incandescent light bulbs with Energy Star compliant compact fluorescent light bulbs (CFLs).
Visit Site
PADO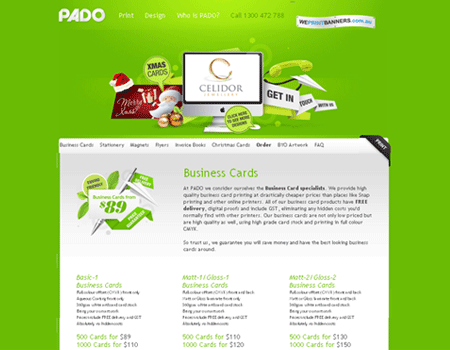 Print And Design Online (PADO) is a business card specialist which provides high quality letterheads, stationery, magnets, flyers and business card printing.
Visit Site
Acupuncture Wellness Solutions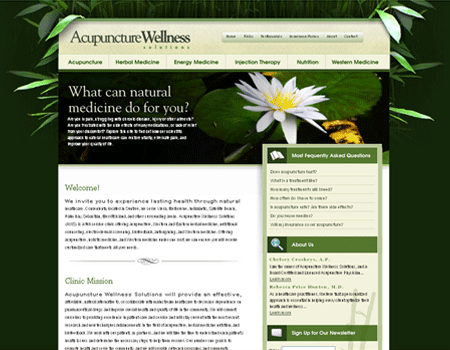 Acupuncture Wellness Solutions is a website for an acupuncture clinic in Florida that promotes herbal medicine and natural health care.
Visit Site
Tic A Tac Poker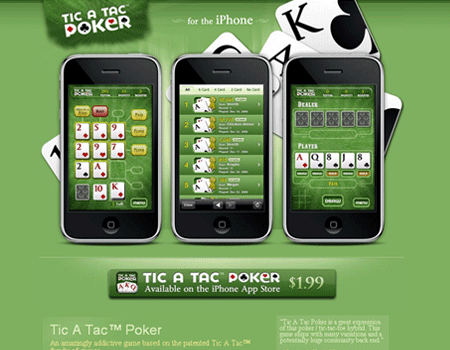 Tic A Tac Poker is an all-new poker game from a hybrid of Poker and Tic Tac Toe. This is a delightful game you can play with your friends in real time!
Visit Site
Daguia Tortas Finas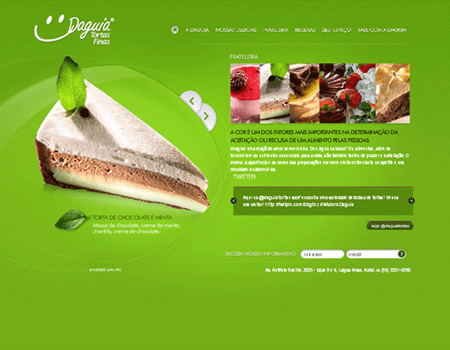 Daguia Tortas Finas is a fresh and inspiring green website with pie, cake, and sweets.
Visit Site
Lipton Green Mint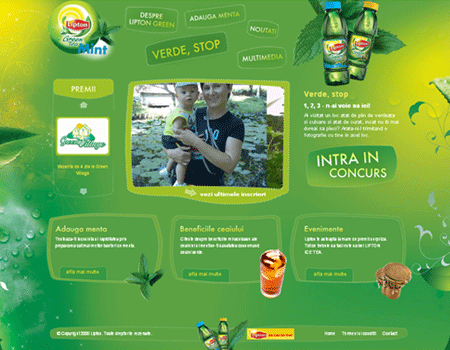 Lipton Green Mint is a website for a refreshing and all natural green tea.
Visit Site
Silverback 2.0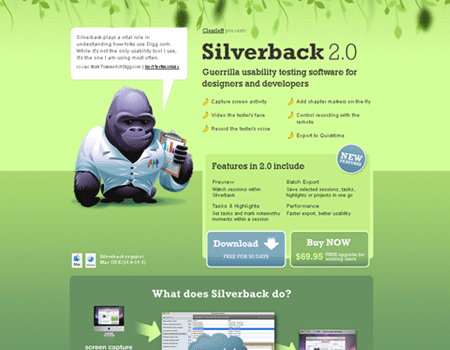 Silverback 2.0 is a Guerrilla usability testing software for website designers/builders.
Visit Site
Pure Organic Baby Food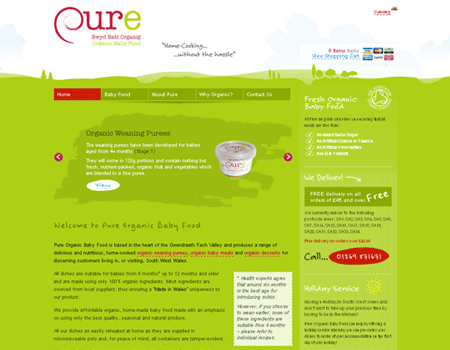 Pure Organic Baby Foods Shop supplies healthy and nutritious home-cooked organic weaning purees, meals, desserts and taster packs for discerning customers living in, or visiting, South West Wales.
Visit Site
Gisele Jaquenod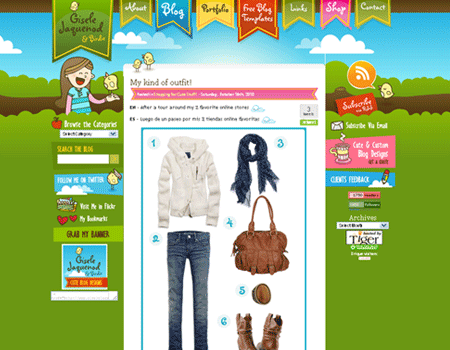 Is a portfolio of Gisele Jaquenod where free and custom blog designs, plus other goodies are showcased.
Visit Site
Benitos Hat Mexican Kitchen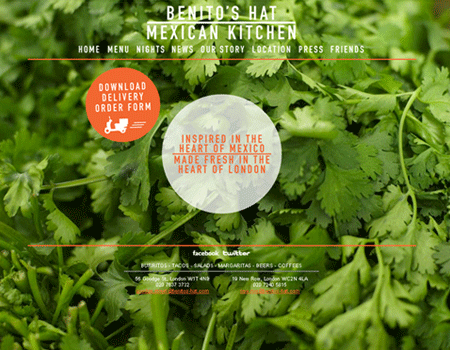 Benitos Hat Mexican Kitchen is a website for a restaurant that showcases appetizing foods like burritos, tacos, salads, margaritas, and etc.
Visit Site
MacTarnahan's Brewing Company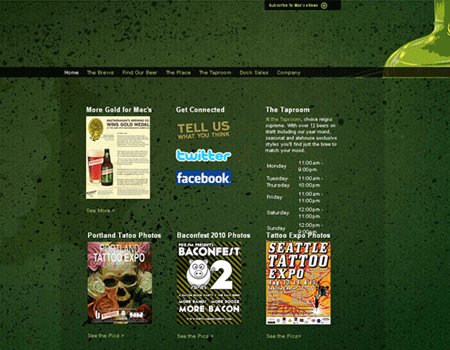 MacTarnahan's Brewing Company is an American craft brewery located in Portland, Oregon featuring Amber Ale, Sling Shot, Summer Grifter and Spine Tingler.
Visit Site
Forelinksters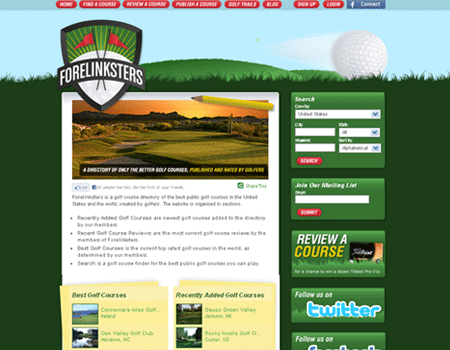 Forelinksters is a golf course directory of the best public golf courses in the United States and the world, created by golfers.
Visit Site
Green Infrastructure Inc.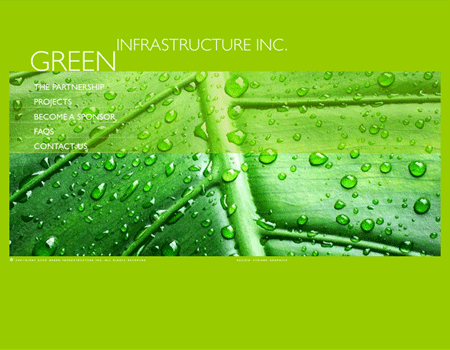 Green Infrastructure Inc. is a nonprofit organization founded in December 2006 to assist communities in developing strategies for protecting and conserving their ecological and cultural assets through environmentally-sensitive decisions, lifestyles and planning.
Visit Site
SprintBio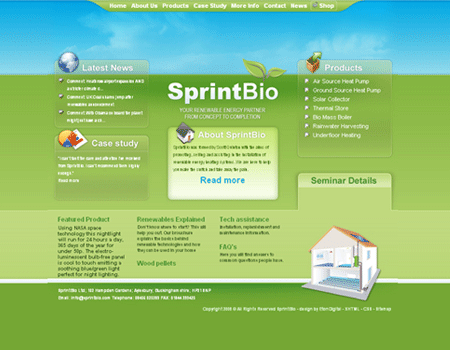 SprintBio was formed by Jane Rampin and Scott Quinton with the aims of promoting, selling and assisting in the installation of renewable energy heating.
Visit Site
Sampex Desentupidora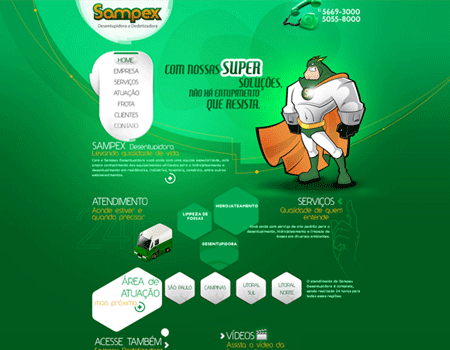 Sampex Desentupidora specializes in unclogging and unblocking for industries, homes, hospitals and businesses.
Visit Site
A Modern Eden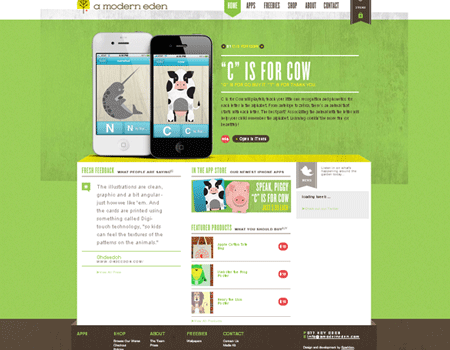 A Modern Eden is a cool little design firm with a few iPhone applications based around cute drawings of animals.
Visit Site
Envato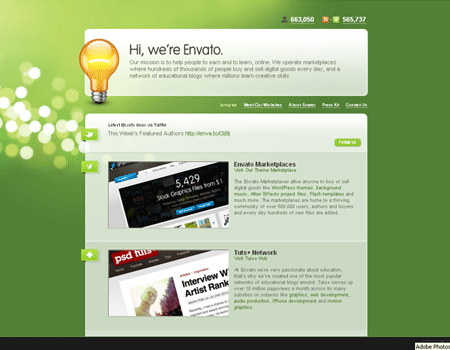 Envato is a start-up based out of Australia which allows anyone to buy or sell digital goods like WordPress themes, background music, after effects project files, flash templates and much more.
Visit Site
GreenXtreme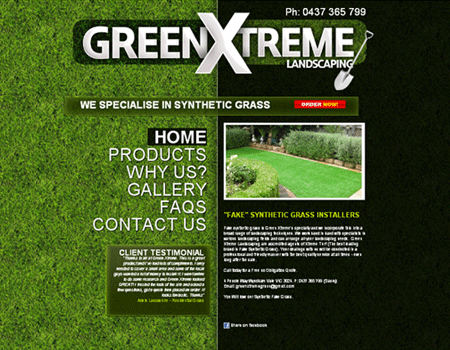 GreenXtreme specialise in synthetic grass and incorporate this into a broad range of landscaping techniques.
Visit Site
Tori's Eye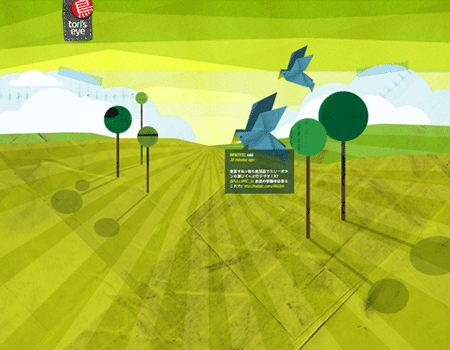 Tori's eye is a Twitter visualization tool, inspired by papercraft and origami.
Visit Site
Pestovo Golf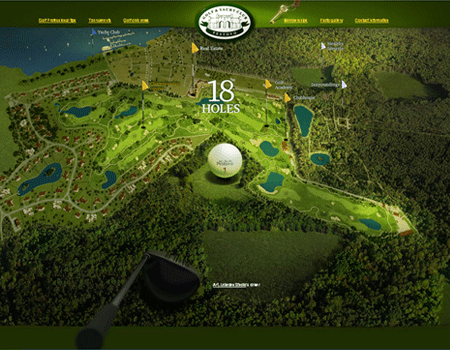 Pestovo Golf Club is located 28 kilometers north of Moscow. Pestovo is home to a golf course, a yacht club, an equestrian center, cottages, recreation and entertainment facilities.
Visit Site
Semillero
Baby Steps Web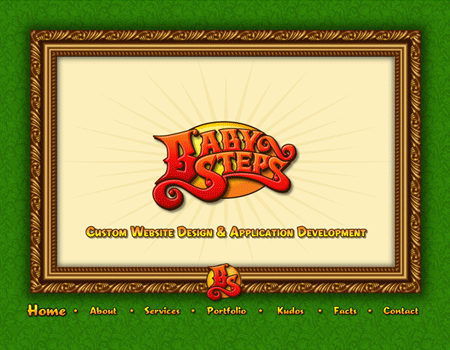 Baby Steps Design Group is a full-service Website Design and Development boutique based in Valencia, California which delivers highly-creative, targeted, visual and interactive branding solutions for Web, print, and broadcast media.
Visit Site
Got Rainforest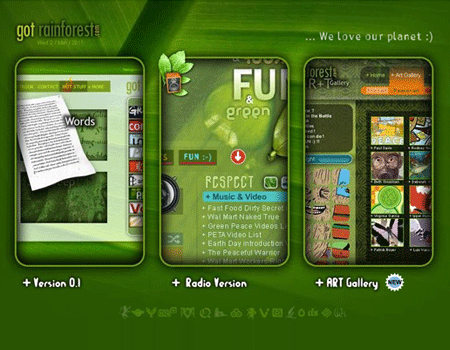 Green Art gallery with illustration, animation, music, videos and value information about how being green demands peace.
Visit Site
Leyo
Alex Buga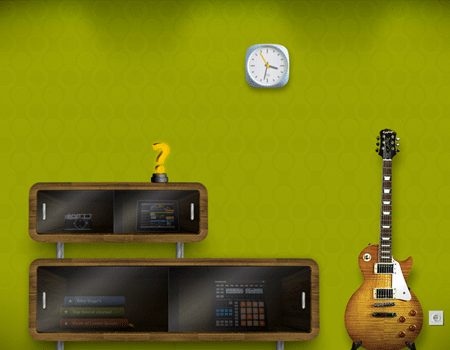 Alex Buga is a graphic designer living and working in Bucharest, Romania.
Visit Site
Camp Website for Sale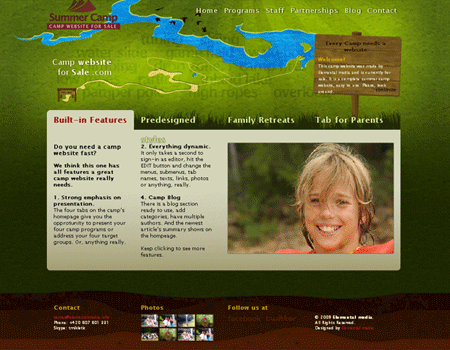 This camp website was made by Elemental media and is currently for sale.
Visit Site
Wokine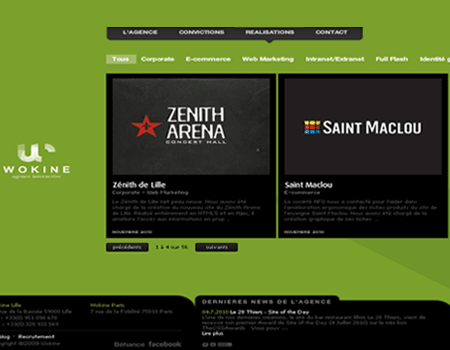 Wokine is a largest website in the world and has google pagerank.
Visit Site