This post is helpful to those who are owning a website or running a blog or an e-commerce site as we are bringing to you different tools useful in analyzing your web content's data such as understanding who are coming to your site, measuring the user's behavior while they are there, tracking the number of visitors in real time, checking search engine traffic, and many more. There are a lot of tools out there for analyzing your website traffic. However, in today's post, we are only sharing tools providing you with website analytics that do not require any fee.
Here are the 20 Useful Free Web Analytics Tools with different capabilities to help you provide valuable data when analyzing your website traffic. Check this out!
Reinvigorate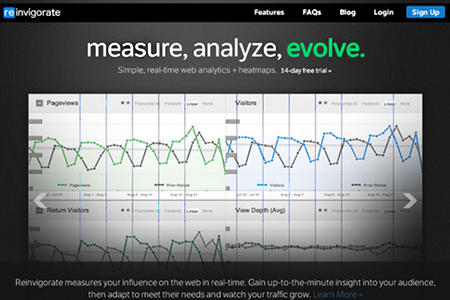 Reinvigorate is a simple, real-time web analytics player which can be used for free to track website metrics.
Visit Site
Piwik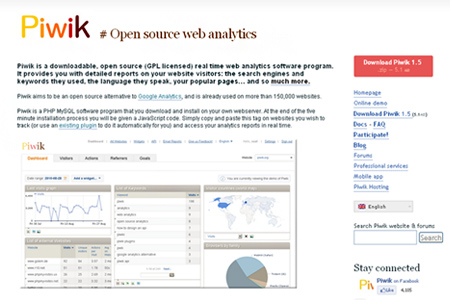 Piwik is an open source web analytics software written in PHP which is as powerful as Google Analytics which generates reports on website visitors, popular pages, the search.
Visit Site
Google Analytics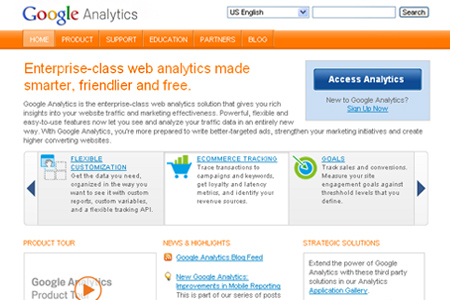 Google Analytics (GA) is a free website traffic analysis tool used by thousands of websites which generates detailed statistics about the visitors to a website.
Visit Site
4Q Survey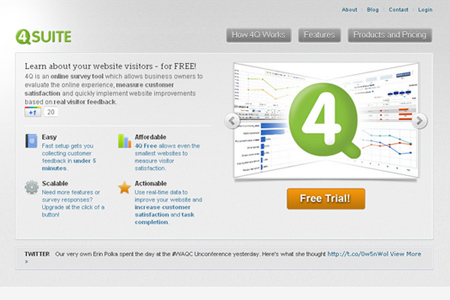 4Q Survey is a free online survey solution which measures customer satisfaction through the surveys conducted to the visitors.
Visit Site
Yahoo! Web Analytics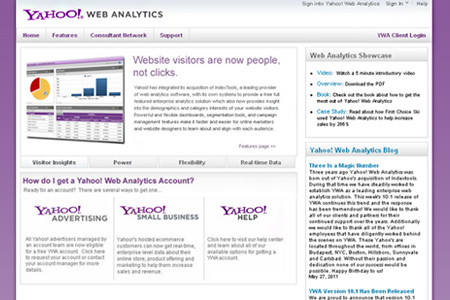 Yahoo! Web Analytics is a highly customizable, enterprise-level website analytics system that can help you track and analyze visitor activity on your web-based properties.
Visit Site
Woopra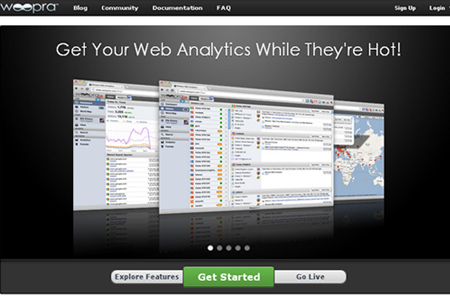 Woopra is a web analytics service offered by iFusion Labs LLC which allows you to watch your site visitors in real time, and even initiate a chat with them.
Visit Site
Quant Cast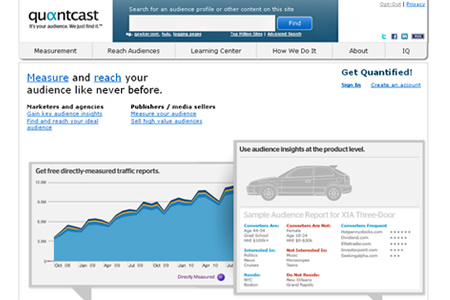 Quantcast is a media measurement, web analytics service used by thousands of companies that allows users to view audience statistics for millions of websites.
Visit Site
Going Up!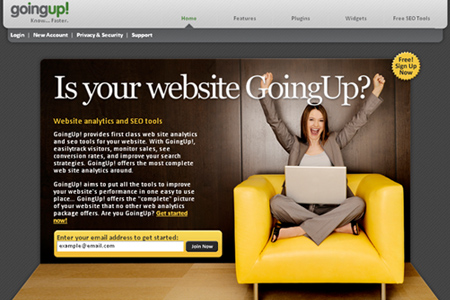 Goingup! is a free web analytics service with powerful SEO features which offers comprehensive visitor activity as well as search.
Visit Site
Site Meter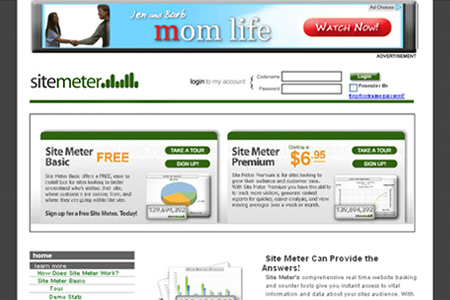 Sitemeter is a free web analytics service which provides counter and tracking information for Web sites.
Visit Site
Clicky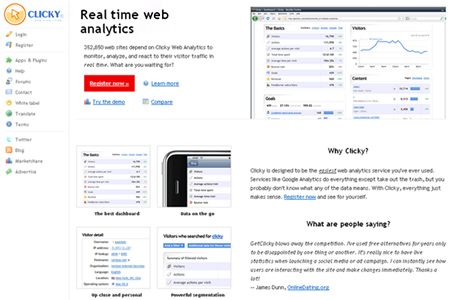 Clicky is a complete web analytics tool used by many popular blogs and websites which gives you information about the visitors to your website.
Visit Site
Go Stats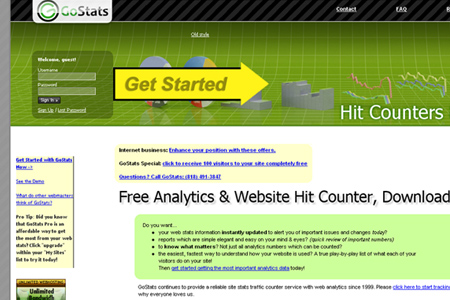 GoStats is a web analytics tool which provides a reliable site stats traffic counter service.
Visit Site
Mochi Bot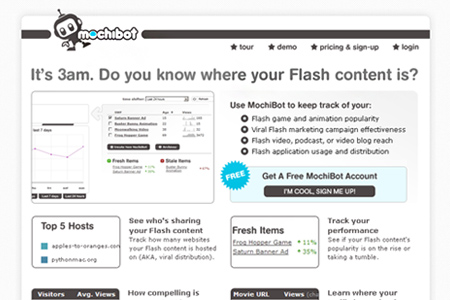 MochiBot is a free Web analytics/tracking tool designed to track flash files.
Visit Site
eWeb Analytics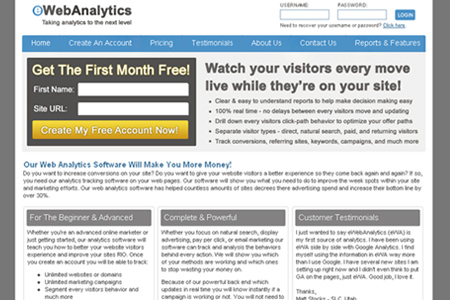 eWebAnalytics is a fully functioning web analytics software/website which helps you learn what each individual visitor is doing on your website in real time.
Visit Site
Hi Stats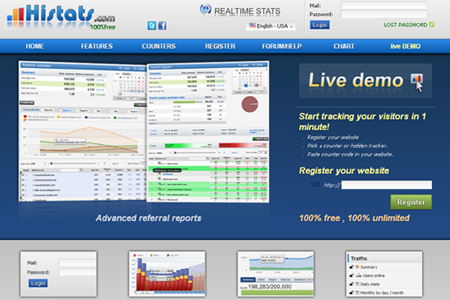 Histats.com is a free web analytics service which helps you provide a real-time measurement and detailed web site traffic analysis.
Visit Site
Link Track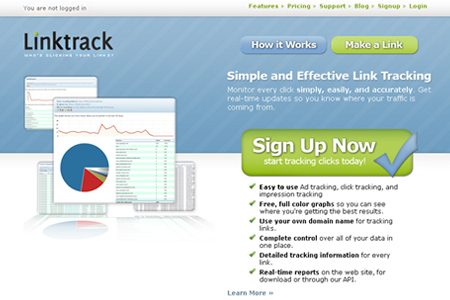 Linktrack is a free online link tracking service which provides real-time updates about the number of visitors to a website.
Visit Site
Smarter Stats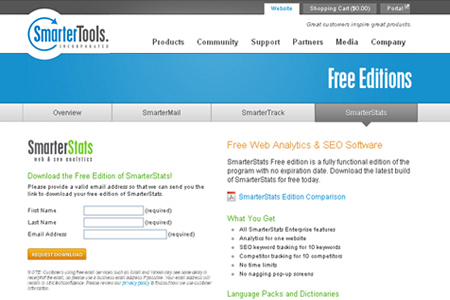 SmarterStats is comprehensive Web Analytics and SEO software that delivers detailed Web site statistics for a single site or up to 30000 sites across a distributed network.
Visit Site
W3Perl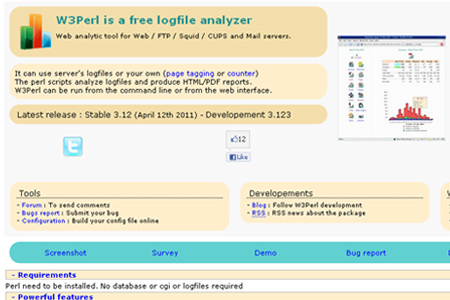 W3Perl is a web analytic tool for Web / FTP / Squid / CUPS and Mail servers.
Visit Site
Stat Counter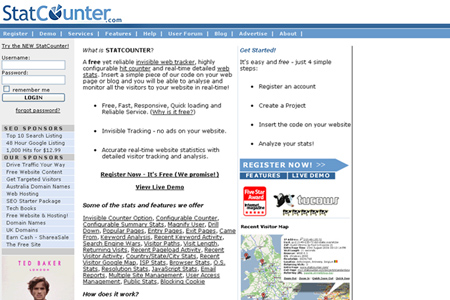 StatCounter.com is a free web traffic analysis service which provides free customisable hit counters, visitor tracking, etc.
Visit Site
Grape Web Statistics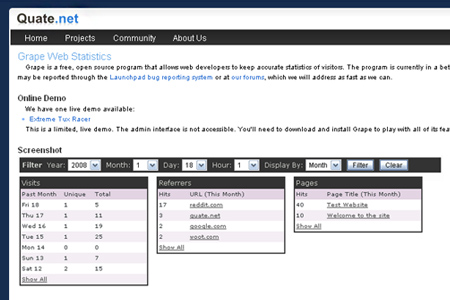 Grape Web Statistics is a free, open source program that allows site administrators to keep track of web site statistics.
Visit Site
Trace Watch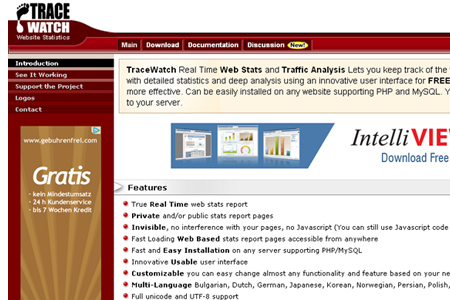 TraceWatch is a free advanced website statistics and traffic analysis software written in PHP language that lets you keep track of the visitors to your website in real time with detailed statistics.
Visit Site