SEO is the acronym for "search engine optimization" or "search engine optimizer". As the name implies, SEO is vital in driving customers to visit your site. Therefore, it helps a lot in achieving a good ranking in search result and in moving your search engine position higher. Today, we share to you some tools that would make better quality of backlinks, link popularity and Google pagerank.
Here are the 21 Websites That Offer Online SEO Tools and SEO Applications which can help you speed up the process of promoting your site and optimizing your pages. Some of these tools offer free service. Check this out.
SEO Chat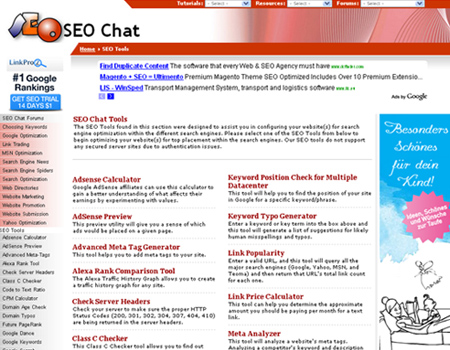 SEO Chat is site that to helps business owners and marketing specialists perform Search Engine Optimization (SEO) on their sites.
Neboweb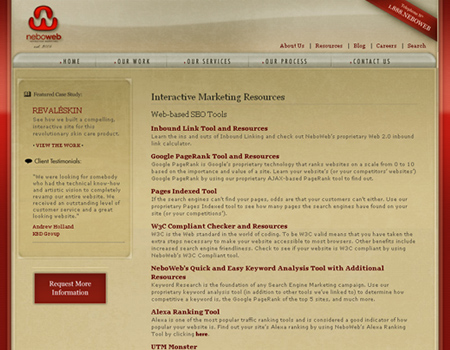 NeboWeb is an award-winning interactive marketing agency headquartered in Atlanta, GA which specializes in improving the Web presence of large to enterprise organizations by providing best of breed interactive marketing solutions.
Ranks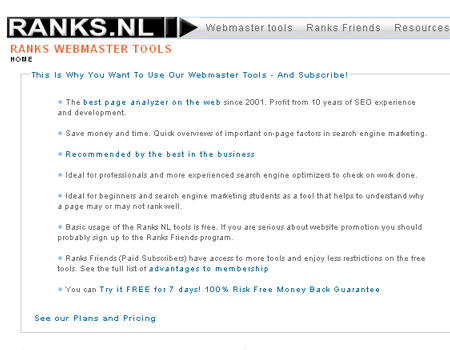 Ranks.nl is a great tool for finding keyword information and offers SEO consultancy at a minimum of 4 hours for the first project.
iWebTool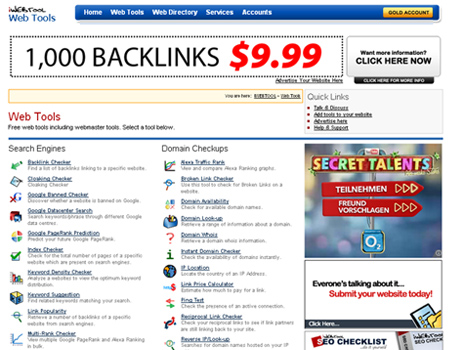 iWebTool is a great seo tools website that offers a perfect advertising solution for your website.
XML-Sitemaps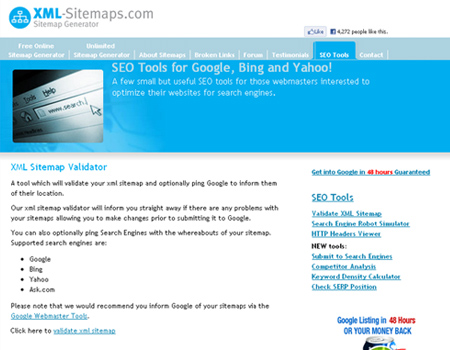 XML Sitemaps is a long established sitemap software publisher that increases your search engine presence to get more traffic.
LinkVendor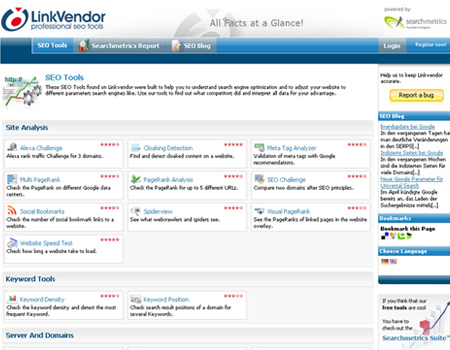 Link Vendor is a site with a collection of numerous SEO tools to improve your site's rankings. All of these tools are available for free.
SEObook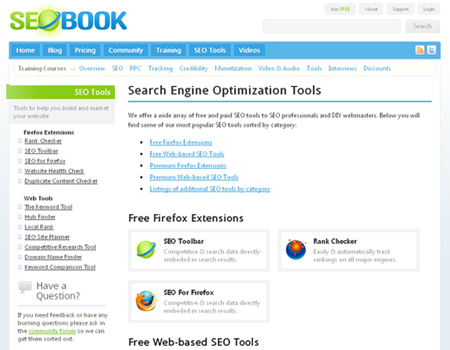 SEO Book is a free search engine optimization (SEO) that helps you optimize your website quickly and easily.
KeywordDensity
KeywordDensity.com is a tool for search engine optimizers that analyzes your pages or check the ranking of your competition.
Webconfs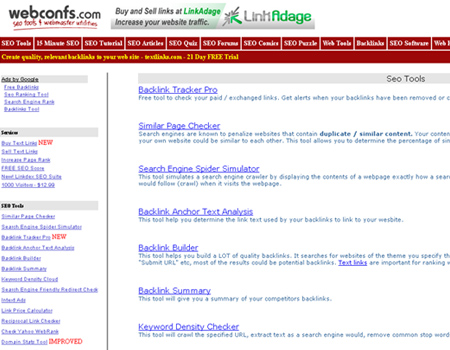 Webconfs is a duplicate content validation tool and search engine spider simulators.
SEOMoz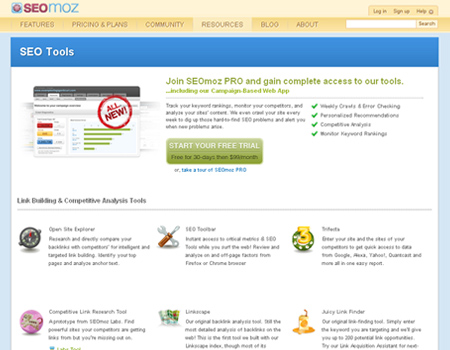 SEOmoz is the most popular provider of SEO software which offers consulting, internet marketing and search engine optimization services.
WeBuildPages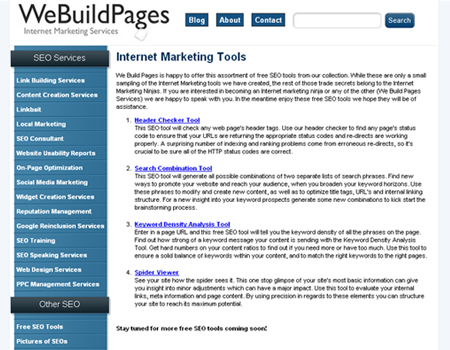 WeBuildPages has been one of the leading providers of SEO tools since 2004 in which their internet marketing offers the best link building and SEO services in the industry.
OnlineWebCheck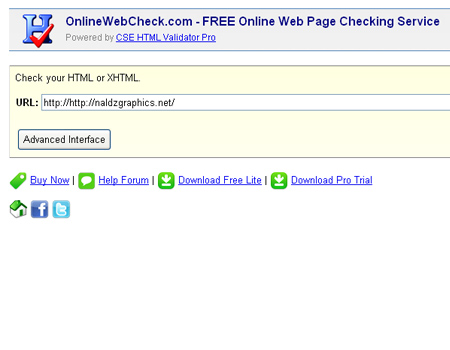 OnlineWebCheck is a free online web page checking service that helps webmasters fix website syntax and other problems.
SEOcentro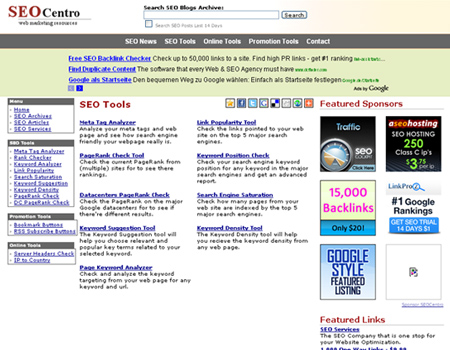 SEOcentro is an online search engine tool that designed this Meta Tag analysis tool to help webmasters analyze their web pages.
Webmaster-Toolkit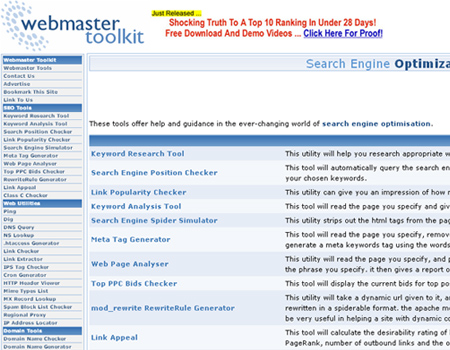 Webmaster-Toolkit.com offers many online tools for webmasters and web designers alike, such as keyword research tools, search engine position checkers, and allows them to check indexing status and optimize visibility of their websites.
Mark Horrell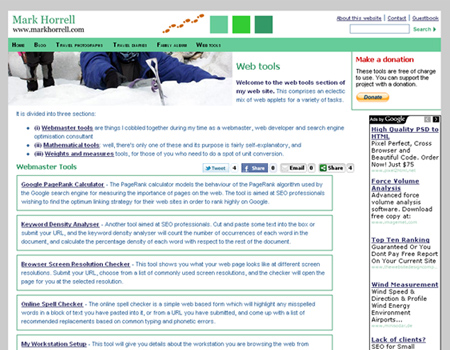 An eclectic mix of web applets for a variety of tasks, including tools for webmasters, mathematical tools, and weights and measures converters.
Self SEO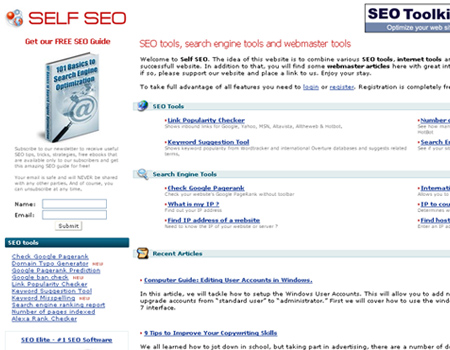 SELF Seo is one of the simplest, time saving and money saving method you can use to optimize your wordpress blog.
Web-Hosting-Top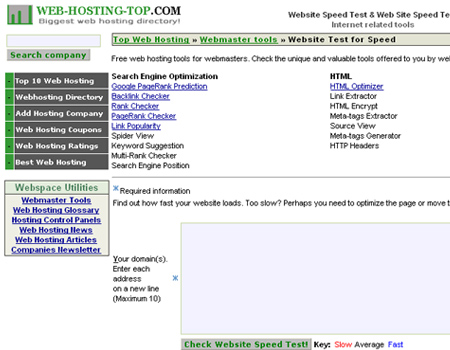 Web-Hosting-Top.com is your best hosting resource of free web hosting tools for webmasters.
Google Rankings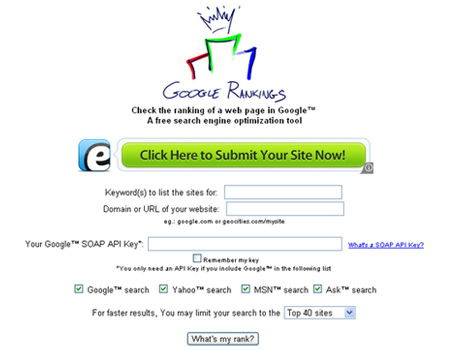 Google Rankings is a free search engine optimization tool that gives you detailed statistics about the websites positions on Google results pages.
Web Rank Info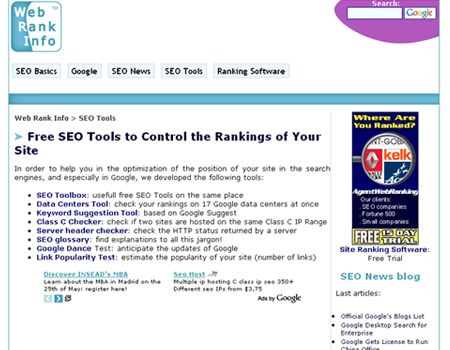 WebRankInfo is an information site specializing in SEO, specialized on Google.
SEOsurf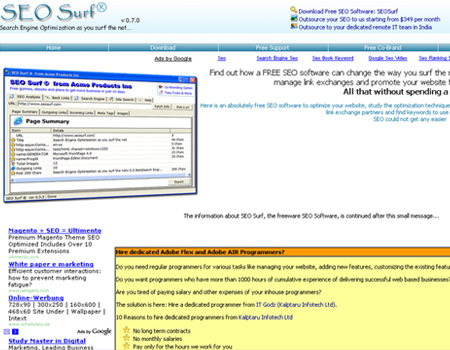 SEOsurf is a freeware SEO Software that allows you to quickly analyze any Web page for SEO.
FreshRank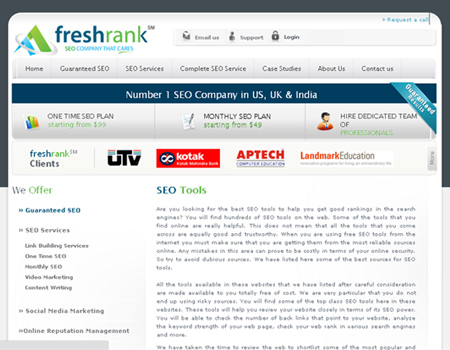 FreshRank is an internet web resources that provides a selection of editors' picked Internet resources as well as Internet websites.